01 . The land of pălinca… Romania was drinking pălincă in 1570!
It's a tale told by the springs and plum trees in the hills of Satu Mare. It is there, on the sun kissed land of Oas Country, that the best plums are grown, and there too that twice-distilled plum brandy was first put to the taste test. Since then, pălinca has been sharp, strong and fragrant, and not one parent, grandparent or ancestor went by without singing of their joy or sorrow over a tumbler. As for the BRAN Family, their story continues…
02 . The first stills… Granddad BRAN distills tradition!
We've been distillers forever, and know for a fact that our recipe and history come from our Grandfather. He tended our orchards and our traditions. All by himself, aided only by two copper stills. Hundreds of years old, pălinca tasted authentic even in 1969 when Gheorghe Bran was distilling alcohol naturally on an open fire, and blissfully spreading strength around the village and surrounding area. This happened in Rosiori, with patience and passion, just as it does now.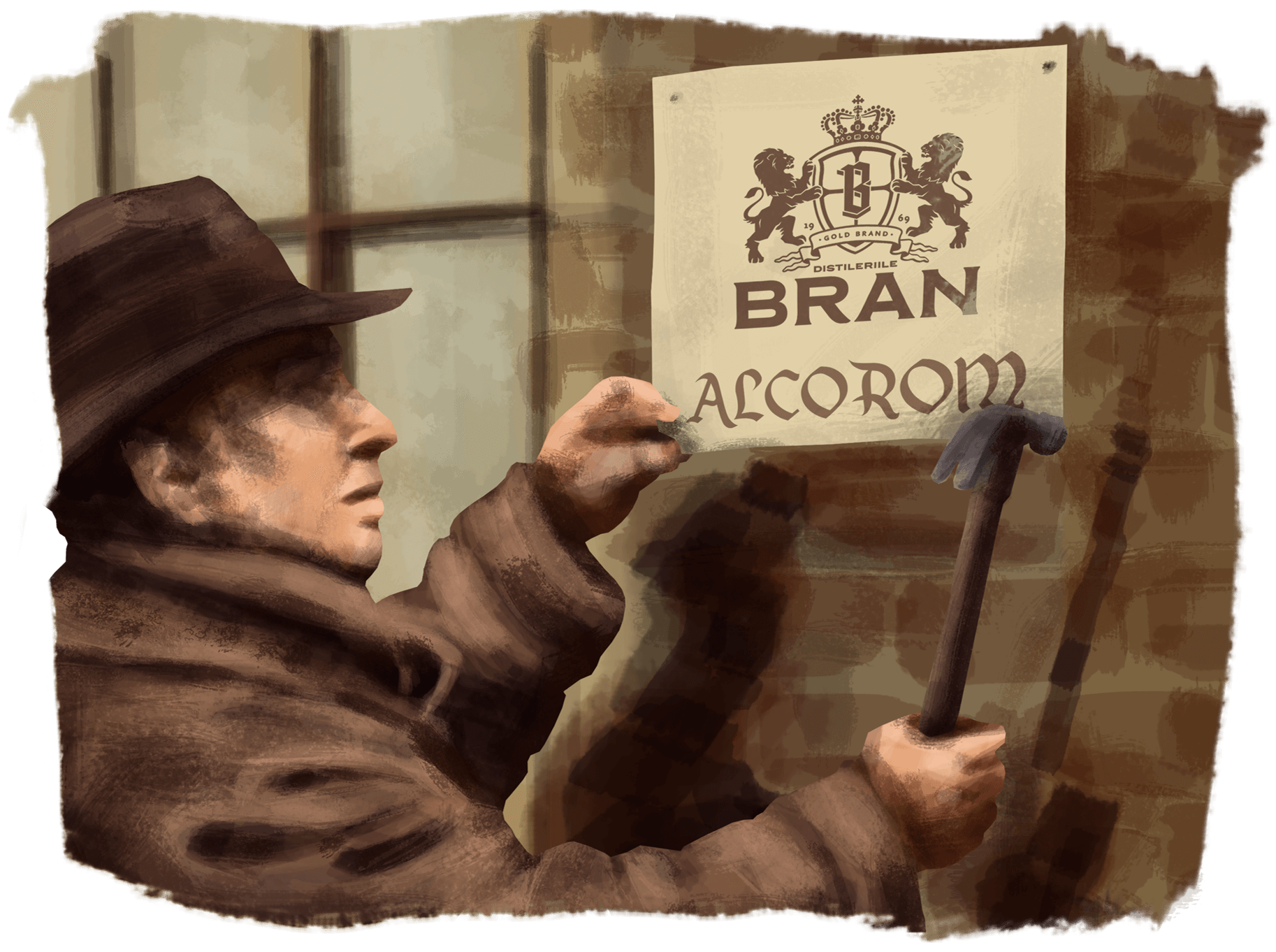 03 . The very first Alcorom logo… (Ioan) BRAN becomes a brand!
The pălinca still was just one step away from traditional stills. After the fall of communism, it only took one son, as passionate as his grandfather had been, to pin down the Alcorom logo and open the gates to a brand with stamina. In 1993, BRAN became an OSIM registered trademark and this is when Ioan Bran marked the beginnings of a very different pălincă…
04 . SAMARO, a tribute… Daniel Bran's makeover!
SAtu MAre, ROmania, is where we pick fresh green walnuts around June, and leave them to macerate in alcohol for about 3 months. The third generation of the BRAN family knew how to combine this with honey and plant extracts so the alembic stills could channel this most headstrong distilled spirit. A prestigious digestif, it is bold enough to begin the evening as an ice shot and strong enough to carry on as base for long drinks. The tribute eau-de-vie, safeguarding its origins and gaining in originality from its presence: it is unique every time, like the thrill it gives.
05 . Distilleries earn distinctions… BRAN, a GOLDEN Brand!
When you hold a BRAN bottle, you are holding a traditional Romanian product that is certified and on show at world fairs and exhibitions, whether in Mexico, Germany, South Korea, or Poland. Plum pălinca wears a gold medal around its neck for its unmistakable plum flavor, while the rakia was awarded the silver medal. Our golden brand boasts many other awards, so like our liquor – it never goes unnoticed.
06 . Sipping a Long Drink with Bran... Pălinca mixed with ginger and passion fruit!
Good mixes come from people with shared passions and cold-filtered high-degree ideas. This is how Apple Pălinca came to be blended with mango, Apricot Pălinca with elderflower, Blueberry Brandy with elderflower cordial and prosecco – which is as trendy as it gets. We have given pălinca the time it needed to find the right shaker, and what a wise decision that was. People have now really adopted it for their own, as BRAN is subtle, easy to drink, traditional, nostalgic, refined, and exotic. It makes you feel good and enjoy life.
07 . We bring our pălinca along and our pălincă loves it… BRAN marks its presence at festivals!
The copper stills – our very roots and the reason why BRAN operates a mobile bar – reflect the sepia hues of olden times. Our pălinca puts tradition in fashion and parking our truck at festivals is super chic. We appetize with our words and set trends with our look, and hold the Neversea flag high with our rakia shots. We distill the strongest of thrills, and our free spirit dances at Afterhills. And just when we thought we'd poured enough, our 2000-strong fans cry: "Another long shot please!"
08 . The heart of Transylvania beats beyond its borders… BRAN across Europe and overseas!
Pălinca from Northern Transylvania knows no borders and pauses wherever it comforts and soothes. We are taken on journeys by those seeking thrills and those brave enough to taste. They know that a fresh green walnut digestif beats any other medicine and prefer BRAN in their whiskey glasses. The fruits of our land reaches as far as the USA, Canada and New Zealand, bearing the "empty bottle, full experience" return stamp!
09 . The orchards of then and now… Three generations, one spirit!
What once poured into tumblers now fills shot glasses. Fruits is hand-picked on the hills of Satu Mare, or at the foot of the mountains, as it has always been. Just like in the olden days, we place it gently in large baskets and rinse it in spring water, to retain its noble fragrance. Maceration follows in our cool cellars, then fermentation – in large wooden vats, sheltered and secure under our watchful gaze. The traditional art of distillation has not changed: copper stills over an open fire - 7 cues, as tales go! The gentle flavors of silky pălinci and the crafty flavors of cherry and blueberry brandies flow, drop by drop. Let adventurous spirits find us, let the spirit stay alive. Lucky for us, there are no headaches. Cheers!